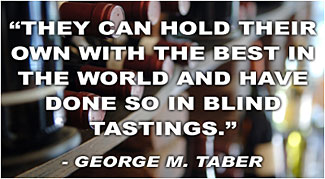 Excerpt from George Taber's Review of
Bart Jackson: Garden State Wineries Guide:
The Traveler's Handbook to the Wineries and Vineyards of New Jersey
Journal of Wine Economics, Volume 6, Number 1, 2011






---
Whether you wander the grounds, tour the cellars, or browse our unique gift shop, the time you spend at Amalthea Cellars will not be forgotten.
Paris 1976
Napa Valley beat French wines as told in the new movie "Bottleshock". On October 11, 2007, Amalthea Cellars beat them both!!!
Want to come and live the dream?
AMALTHEA CELLARS ASTOUNDS EXPERTS AT WINE TASTING COMPETITION
Atco, NJ - June 11, 2008
Over 100 wine tasters in Atco, NJ made wine history again on June 9, 2008. Amalthea Cellars once again upheld the honor of Garden State wines by often being preferred over the best of French and Napa vintages in a blind wine challenge.

Amalthea Cellars once again took top honors over some of the world's covenanted wines including; 2001 Chateau Mouton Rothschild Cabernet Sauvignon, 2004 Chateau Cheval Blanc St. Emilion Grand Cru, 2005 Louis Latour Puligny-Montrachet Chardonnay, 2003 Silver Oak Napa Cabernet Sauvignon, 2005 Far Niente Cabernet Sauvignon, 2005 Duckhorn Merlot, and 2006 Cakebread Cellars Chardonnay in a tasting held at the winery's estate on June 9th, 2008.

(for more information click here)
---
Judgment of Paris
On October 11th, Amalthea Cellars shocked the wine world in a blind tasting that was inspired by the original 1976 Paris wine tasting. Mr. Phillips of MedpowerUSA exclaimed "Chateau Mouton-Rothschild and Stag's Leap Cabernet, both at the 1976 Judgment of Paris tasting that gave the upset to California, were trounced by New Jersey (Amalthea Cellars) in a stunning upset last night." Our winemaker remarked "there have been no changes in our commitment for 25 years, it's just that the world is finding us out." (click here for full article)


New Jersey vs Judgment of Paris
The Winners Are . . . (click here for full article)



Home Page | A Brief History | Our Philosophy | Wine List | Legends Edition | Retail Locations
Legends Edition | Tastings | Events | Directions | Latest News | Contact Us


Amalthea Cellars
209 Vineyard Road
Atco, NJ 08004
Telephone: 856-768-8585

This site hosted and developed by: D.C. Helms Inc. Material Copyright © 2007-2013 Amalthea Cellars